Laser Hair Removal in Alexandria, VA
Laser Hair Removal in Alexandria
Treat your excessive or unwanted hair problem at its root with the best laser hair removal in Alexandria. Constantly shaving, waxing, or plucking can be daunting and costly for those with unwanted hair growth issues. Reach out to LightRx today to find a more permanent hair removal solution with cosmetic laser hair removal treatment.
What is Laser Hair Removal?
No matter how many times you shave or wax, unwanted hair will always grow back. This causes those with hair growth struggles to be stuck in a constant loop of searching for a better solution to their unsightly hair problems. The best laser hair removal in Alexandria is at LightRx, and it  could be the piece to the hair growth puzzle you've been searching for. 
Laser hair removal uses a light laser to target and destroy hair follicles at their root. Instead of cutting hair each time it grows, laser hair removal works to eliminate the hair completely. 
Cosmetically, this can help those who find themselves with painful bumps or uncomfortable redness from constant shaving and waxing. Laser hair removal can also provide much needed relief for many who struggle with ingrown hair, as the hair follicles will stop growing all together. 
How Does Laser Hair Removal Work?
While shaving, plucking, or waxing works to remove hair that has already grown above the skin, laser hair removal uses a laser to target the hair follicles deep within the skin's surface. As hair gets longer and enters the anagen phase of growth, it contains higher levels of Melanin then when it is still under the skin. 
This Melanin is a substance within the body that creates pigmentation in the hair, skin, and eyes. The energy in the laser used for hair removal is attracted to this Melanin, activating the laser to each hair follicle. 
As the laser energy moves deeper under your skin, the energy is converted into heat. As each follicle heats up under the laser to the desired temperature, the follicle is made inactive, preventing future hair growth. 
Unlike traditional hair removal methods, laser hair removal comes with minimal damage to the surface skin surrounding hair growth areas. Laser removal treatments typically leave clients with smooth, healthy skin as opposed to the ingrown hairs, razor burn, or redness that can accompany other methods of removal.   
FAQ 
The duration of a hair removal session and the length of treatment needed can depend on a variety of factors, like area of the body, hair texture, and hair color. Typically, a laser hair removal session can take anywhere from 30 minutes to an hour depending on the area size each session is targeting. 
In regards to how many treatments each client will need, that number varies as well. Like each session, the number of treatments needed for overall successful hair removal will depend on the area of the body being targeted, the texture of hair, and the color of the hair. 
On average, clients will see somewhere between 90%-95% hair removal in eight sessions of treatment. After just a single treatment, many clients can already see around 15% reduction in hair growth. With anywhere from 4-8 weeks between each treatment session, the duration of the laser hair removal process from start to finish can last from 8 months to over a year. 
The reason it can take multiple treatments to successfully see desired hair reduction over an entire area is due to the necessity that hair be in the anagen phase of hair growth when a treatment occurs. Hair growth varies in different areas of the body and it may take multiple treatments before each area is caught in the most effective phase of optimum growth for hair removal. 
Contact the LightRx team for a personal consultation to find out what treatment plan is best for you.
Is Laser Hair Removal Safe?
For most people, laser hair removal is completely safe. While it isn't dangerous, there are certain parts of the body that can be more uncomfortable than others during removal. Some clients have reported higher levels of discomfort when getting hair removal on the bikini area, the upper lip, or the underarms since those areas have more sensitive skin. 
If clients experience any side effects at all, they commonly experience slight irritation or swelling near the removal site. These symptoms should disappear within a few hours after treatment. During a treatment session, clients may experience some slight discomfort on the skin.
Laser hair removal should not be received in areas too close to the eyes or while someone is pregnant.
How Do I Prepare For a Laser Hair Removal Treatment Session?
Since hair needs to be in the anagen growth phase for effective laser hair removal, clients should not wax, pluck, or use hair removal creams while in preparation for a laser hair removal session. However, shaving is encouraged. Shaving leaves the root of the hair intact while promoting hair to move into the growth phase. 
Waxing, plucking, or using removal creams all target the root of the hair follicle. These methods remove the root completely, leaving the hair removal laser unable to reach the follicle underneath the skin's surface. This prolongs the time before hair will be ready to enter the anagen phase of growth. 
Ready to get rid of your unwanted hair? Contact us today to start your hair removal treatment!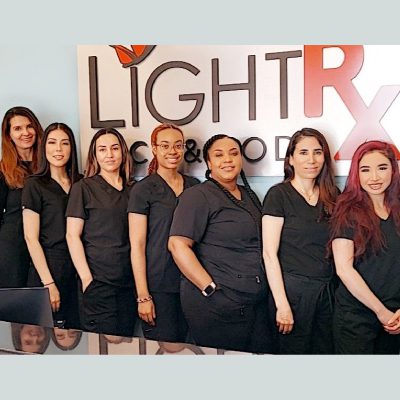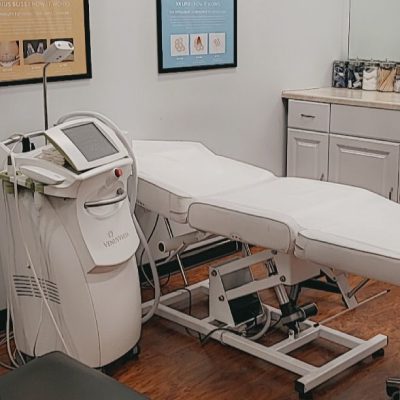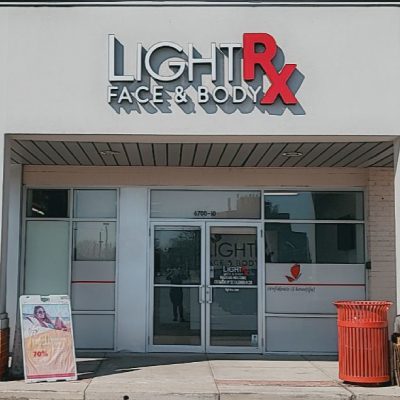 Also Serving: Springfield, Arlington, Fort Washington, Washington DC, Capitol Heights, Clinton, Lorton
* Individual results vary. Best results promoted by a healthy lifestyle. Images do not constitute a promise or representation of any particular outcome.
**By submitting an application, I provide my signature authorizing contact from LightRx at the telephone number provided to discuss our services. Calls may be made using automated dialing technology and SMS, I am not required to sign this document as a condition to purchase any goods or services. I understand that I can revoke this consent at any time.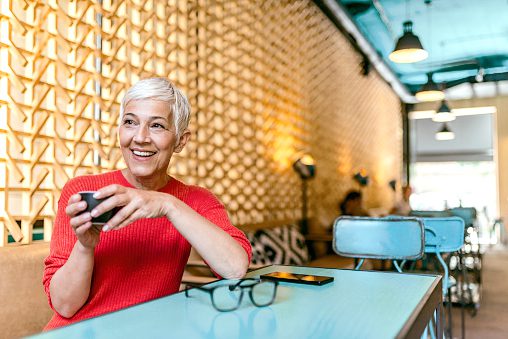 CONTACT US AT
877-721-4547
for your free consultation or fill out the form above and let our body contouring experts design a Treat2Complete custom plan, just for you.
CONTACT US