Simply put laser lipo, or laser liposuction, is a non-invasive medical treatment that shrinks and melts fat cells under the skin. It is an alternative to a more invasive and intense traditional liposuction as it does not involve any incision. It is proven to eliminate fat and help you to achieve the body that you want.
You can use laser lipo to target the fat on your stomach, arms, thighs or love handles. Treatments can be completed within thirty minutes, and you can leave the clinic and get directly back to work with no downtime. Laser liposuction is safe and effective and with the equipment and technology used at LightRx, clients can undergo the treatment with little to no discomfort.
Our Laser Lipo Technology
Laser lipo uses low level laser beams that are released through treatment pads to break down stored triglycerides into free fatty acids and glycerol. These free fatty acids and glycerol are released into the body through the cell membranes and transported around the body to various tissues where it waits to be burnt off.
Typically, when you exercise the body needs extra energy to continue to function, the body finds this energy by releasing any stored fat content from anywhere in the body.
 Laser liposuction uses the low-level beams to preempt this release of fat cells from a targeted area of the body, so when you exercise the fat has already been released. In a sense, laser lipo melts fat away so your body can easily process it out with some exercise. The laser lipo treatments at LightRx typically take about thirty minutes and everything is non-invasive, giving you the ability to immediately return to any activity.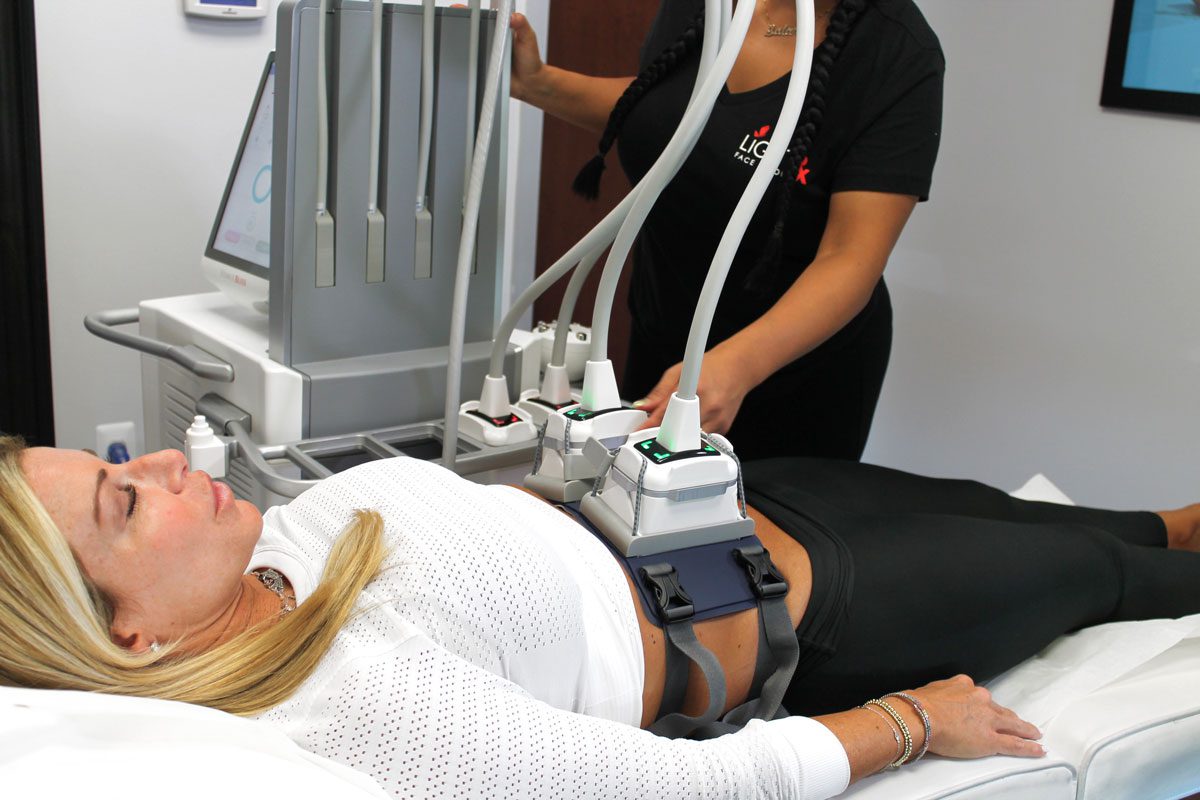 How Does Laser Lipo Work?
            LightRx's most popular laser lipo treatment is the Venus Bliss Non-Invasive Laser Lipolysis system. It is clinically validated for fat reduction and provide a more contoured look, with a focus on client comfort. It employs 1064 nm diode laser applicators to induce lipolysis. This leads to a reduction of excess fat in the target area. The Venus Bliss focuses on client care and comfort through its technology. It features 4 diode laser applicators that can be activated individually and placed in various configurations. This flexibility allows it to form fit to nearly any client.
 These applicators have uniform energy distribution across sapphire crystals which evenly heat the target tissue (unlike CoolSculpting). This technique eliminates hot spots in small areas that could cause discomfort or pain during treatment. Each applicator is also equipped with tissue contact sensors that ensure a safe and therapeutic effect. The lasers also measure temperature to regulate heat and ensure client comfort.
            The Venus Bliss also comes equipped with the (MP)2 applicator with VariPulseTM technology. This is a separate treatment but can provide patients with a solution to smooth out the abdominal area as part of the weight loss treatment and can also reduce cellulite on the body. It is powered by Multi-Polar Radio Frequency and Pulse Electro Magnetic Fields with VariPulseTM which helps fat removal.
This process gives the body a more contoured appearance and reduces cellulite for a firmer looking body. It utilizes dual multi-polar electrode crowns as well as a unique array of electrodes for a quick and efficient treatment of large areas. This wonderful applicator delivers significant depth of impact for a greater reduction of fat. The VariPulseTM technology works by way of an adjustable pulsed suction which is integrated in the (MP)2 applicator to facilitate deep effect on tissue.
The technology increases penetration and the effects of RF energy by improving the contact surface between electrodes and body tissue. The VariPulseTM technology also works to increase blood flow to enhance lymphatic drainage.
Laser Lipo Before and After
            Laser Lipo is designed to reduce fat in targeted areas and to help contour the body for a slimmer appearance. Typical clients before treatment have more rounded abdominal areas as well as larger love handles due to fat. After treatment clients can expect to see a reduction in the buildup of fat in these areas and as a result have a slimmer body frame and appearance. You can see some results of our previous clients for yourself in our laser lipo before & after gallery.
Frequently Asked Questions
Does Laser Lipo Work?
Yes, laser lipo works. In fact, clients can lose up to twenty-five pounds of total body weight through the treatment. Not only does it work, but the results of laser liposuction are harder to reverse because the process destroys the fat cells in the body, rendering them unable to store fat any longer. Laser lipo is completely non-invasive and safer than traditional surgical liposuction which means that while results may not be as dramatic there will certainly be apparent. Laser lipo produces best results for patients that need help with stubborn areas that persist after proper diet and exercising or if the client cannot undergo surgery.
Is Laser Lipo Safe?
Yes, laser lipo is safe and clinically approved. Clients can expect no scarring and there is a minimal risk of burning skin. There is no risk to a client's internal organs nor is there risk for infection. The procedure has developed significantly since its infancy and now promises to be quick, effective, and most importantly safe.
Are There Any Laser Lipo Side Effects?
The most common of these side effects is numbness in the treatment area, slight scarring, discolored or loose skin. Those side effects are temporary and tend to disappear shortly after a treatment. In fact, 90% of LightRx clients do not feel any discomfort and often return directly to their daily lives after leaving the office.
How Much is Laser Lipo?
Laser lipo can be expensive in many medical spas and plastic surgery centers. However, at LightRx we believe that state-of-the-art aesthetic treatments such as laser lipo should be affordable for everyone.
Both pricing and the number of treatments will be determined during your free consultation and will depend on your desired results and goals. Additionally, easy financing options are available to you.
The best way to know exactly what you will be paying is by contacting us by calling 877-721-4547 and scheduling a consultation in one of our clinics. These consultations take as little as 30 minutes and are private one on one consultations with the clinic director.
Can I Get Results After One Treatment?
You can get some results about a week after the first treatment, although you will not get your full desired results until you have completed all your treatments. Not all clients see immediate results, although all clients do eventually see results throughout the treatment process. These treatments will be implemented over the course of 10 to 12 weeks depending on your situation.
To best determine the length of your treatments and your desired results schedule a free consultation with us. These consultations typically take 30 minutes and are private one on one with out clinic director.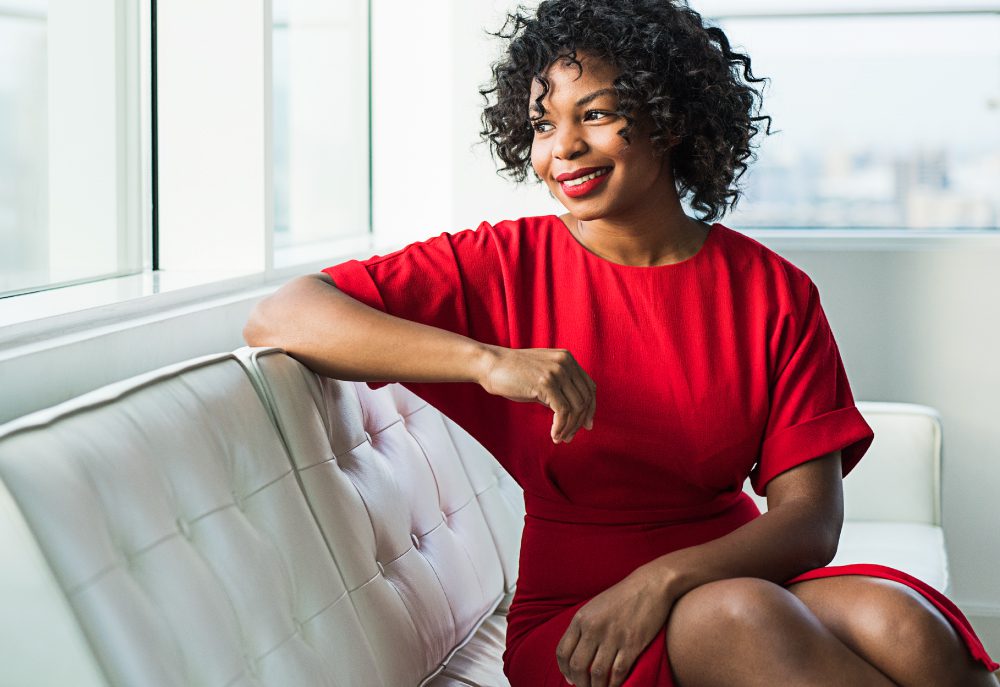 CONTACT US AT
877-721-4547
for your free consultation or fill out the form above and let our body contouring experts design a Treat2Complete custom plan, just for you.
Contact us
* Individual results vary. Best results promoted by a healthy lifestyle. Images do not constitute a promise or representation of any particular outcome.
**By submitting an application, I provide my signature authorizing contact from LightRx at the telephone number provided to discuss our services. Calls may be made using automated dialing technology and SMS, I am not required to sign this document as a condition to purchase any goods or services. I understand that I can revoke this consent at any time.