40% OFF TREATMENTS- Call now 502-425-8820
or submit the form below to schedule your free consultation:
BOOK TODAY AND RECEIVE AN ADDITIONAL $250 OFF!
WELCOME TO LIGHTRX LOUISVILLE
LightRx is an elite medspa in Louisville. We provide a wide range of medspa treatments focused on making you look the best you can. These treatments can help you reduce cellulite, eliminate wrinkles, tighten loose skin, and lose fat.
All our treatments are safe, effective, and clinically proven.
Our treatments are also noninvasive and surgery-free. This means that there is no downtime following any of these treatments. Melt fat, lose inches, say goodbye to cellulite, and tighten skin with FDA-approved, clinically proven technologies for dramatic results.
You deserve beautiful skin. Our medspa is here to help you discover the perfect skincare treatments tailored personally for you.
There are plenty of medical spas, but we are your premier provider in the Louisville, Kentucky area. That's because we understand that everyone is unique. Whether you are interested in body contouring, laser hair removal, or skin tightening, our highly trained staff will customize a plan using the latest technology without surgery or downtime.
LightRx – Louisville uses FDA-approved, clinically proven technologies to help you achieve the best results possible. Start enjoying your results today!
If you want to find out more, come visit us at 10516 Fischer Park Dr, Louisville, KY 40241, or visit our website to schedule a free consultation to learn more about the best medspa in Louisville.
SERVICES
We offer the following treatments:
BODY CONTOURING
Body contouring in Louisville,  also known as body sculpting, is a skin care treatment devised to reshape an area of the body. It may involve helping you flush stubborn fat, reshape or contour problem areas, and remove saggy, excess skin.
Body contouring in Louisville is not a weight-loss treatment. Instead, it reshapes the body and addresses stubborn fat when diet and exercise aren't cutting it, or after significant weight loss leaves you with saggy, extra skin.
Areas that commonly have stubborn fat, including the "love handles," side back, and thighs. Body contouring works well in all of these areas.
Substantial weight loss achieved by a healthy lifestyle, bariatric surgery, or postpartum body changes often leaves droopy, loose skin. Body contouring in Louisville treatment can fine-tune your skin to suit your new body shape.
Body contouring in Louisville is a full-body service. It combines several medspa treatments to help you remove stubborn fat and get your body ready for the beach. Body contouring can make your clothing fit nicely or just help you feel better when you look in the mirror. Fat loss is a real self-esteem booster!
How Does It Work?
The process of body contouring in Louisville starts with a free consultation. You and your consultant will discuss the appropriate treatments to meet your needs. For example, If you are trying to get beach-body ready, you may want to consider a laser lipo treatment.
Body contouring can be performed in conjunction with skin care treatments. These include laser skin tightening and cellulite reduction. You can rest easy knowing that all of our treatments are noninvasive. Since our technologies are surgery-free, you won't require any downtime and avoid surgery risks.
Unlike treatments at other medical spas, there will be no scarring, no infection, and certainly no chance of internal damage. Sessions typically take about 90 minutes or less.
CELLULITE REMOVAL
Cellulite is an entirely harmless skin condition. It is caused by the skin loosening and allowing fat deposits beneath the skin to push up towards the surface of the skin. Since the fat is malleable and the skin is looser in some areas, the skin has an undulation or bumpiness. If it bothers you, contact us to learn about our cellulite reduction in Louisville.
Mild cellulite is only noticeable if you pinch your skin where you have cellulite. More severe cellulite gives the skin a lumpy and dimpled appearance. Cellulite usually develops on the buttocks and thighs. Other areas also prone to cellulite are the breasts, upper arms, and lower abdomen. 
LightRX's cellulite reduction in Louisville is here to help you say goodbye to cellulite. Call us at  877-721-4547 to schedule your free consultation today.
To improve the appearance of cellulite, there are numerous non-invasive treatments to consider. Some studies indicate that combining treatments may yield the most satisfying results.
Cellulite occurs far more often in women than men. Most females develop some cellulite after going through puberty. Contrary to popular belief, a healthy lifestyle and fat loss don't resolve cellulite.
Women's stubborn fat usually develops in the thighs, buttocks, and hips, which are the areas cellulite tends to gravitate to. Aging is also a common cause of cellulite because our skin loses much of its elasticity when we grow older.
Putting on extra pounds can make cellulite more noticeable, yet lighter people can still develop cellulite. Conversely, drastic weight loss also makes cellulite more noticeable.
To improve the appearance of cellulite, there are numerous non-invasive cellulite treatments to consider. Multiple research studies have found that combining treatments probably delivers the most dramatic improvements. At LightRx, our medical spas have everything you need to start your cellulite reduction in Louisville.
However, there is a proven way to reduce cellulite.
How does it work?
One non-invasive treatment is using electromagnetic waves and radio frequencies. Our medspa in Louisville heats up the skin which triggers the body's natural healing process without damaging the skin.
The purpose of this cellulite treatment is to create collagen. Collagen is the skin fiber responsible for tightening the skin. Over the next three to six months, you will notice a drastic reduction of cellulite. This skin tightening compresses the fat beneath it and smooths the skin, reducing the look and feel of cellulite.
Skin tightening and body contouring are also options to eradicate cellulite. Come in for a free consultation to develop your treatment plan.
SKIN REJUVENATION
Sun damage, aging, and genetics can affect the skin on your face and body. These factors can cause wrinkled skin, acne scars, sun spots, or rosacea.
Sometimes skin loses tone, making it feel less firm. That healthy-looking glow found in younger skin is just a memory.
We offer a variety of facial rejuvenation treatments, from nourishing skin care experiences to laser resurfacing. Whether you want to shave off a few years or be ready for a photographer, we can help you uncover your skin's youthful glow.
LightRx has four pieces of technology that are used for skin rejuvenation. These are the Venus Viva™, Venus Glow™, Sofwave, and Aerolase Neo Elite. Some of these treatments may be used individually or in tandem.
The treatments and number of sessions you need will depend on your treatment plan.
How does it work?
Our treatments for skin rejuvenation in Louisville are as varied as our clients' needs.
If you need to treat acne scars, wrinkling, spots, or visible blood vessels, the Venus Viva™ could be an excellent treatment for you. This innovative technology uses radio frequencies and electro-magnetism to warm the skin and trigger your healing process. This tightens collagen and encourages collagen production, making it an effective treatment for various skin concerns.
Giving your skin a rich treatment is always a luxurious way to reveal your glow. Our Venus Glow™ treatment uses advanced technology to thoroughly cleanse and prep your skin. Then, we deliver a specialized serum deeply into your layers of skin. If you're looking for skin rejuvenation in Louisville that will leave your skin refreshed, this would be the perfect option for you.
When it comes to anti-aging treatments, Sofwave™ has a unique solution. Heat penetrates deeply into the skin while SofCool™ technology cools and preserves the skin. The result is a treatment that encourages collagen production while reducing wrinkles and fine lines.
Other treatments are limited in their scope, but our Aerolase Neo Elite laser skin resurfacing technology can treat various conditions. This highly advanced laser skin resurfacing technology shortens recovery time and reduces the risk of side effects. Aerolase Neo Elite can treat everything from vascular and cutaneous lesions to scars and warts. You can expect your session to last from half an hour to an hour.
Thanks to skin rejuvenation in Louisville, all of these state-of-the-art techniques, including laser treatments and facial rejuvenation, are available right in your neighborhood. A combination of methods may be advisable depending on your skin type, skin tone, age, goals, and other factors.
We're proud to offer our clients a wide range of non-surgical treatments. Whether you're looking for a tried-and-tested skincare treatment like Venus Glow™ Facial or the latest laser skin resurfacing treatment like our Aerolase Neo Elite, we have a skin rejuvenation treatment to suit everyone's needs.
A free consultation with us at our Louisville medspa will help to determine the best treatment for your skin. Our experts will devise the perfect treatment plan for your unique needs and desires.
SKIN TIGHTENING
Laser skin tightening in Louisville is convenient, effective, and safe treatment to turn wrinkled skin into tight, firm, and vibrant skin.
Our laser skin tightening treatment is done with a combination of low-level lasers, radio frequencies, and magnetic pulses. This causes a thermal reaction in the tissue, causing the body's natural healing process to respond. The body does this by forming new collagen, which then contracts and tightens the wrinkled skin.
Since the body is doing all the work naturally, you will not feel any discomfort following treatment. Laser skin tightening treatment is a safe and effective way to turn back the clock and smooth your wrinkled skin. These skin tightening techniques work great on the face and neck area, but also work when targeting cellulite on the stomach, thighs, and buttocks.
Non-surgical skin tightening in Louisville works by targeting laser energy to heat the deeper skin layers. This stimulates the production of new collagen and elastin and tones the skin while improving its texture. Some treatments even help to smooth cellulite as well!
Many FDA-approved skin rejuvenation techniques and technologies are available to choose from, and each uses a unique mechanism to achieve the desired result. Your free consultation will help you learn about non-surgical treatments for skin rejuvenation, like treating wrinkled skin.
Skin tightening in Louisville at LightRx the treatment sessions are not complex, dangerous, or even uncomfortable, especially when compared to plastic surgery.  You can be in and out of our office in as little as 45 minutes. And since skin rejuvenation is a non-surgical treatment, you can get back to your day with no downtime.
As we grow older, our production of collagen and elastin—two proteins that help our skin stay plump, firm, and smooth—slows down, resulting in areas of wrinkled skin on the face, neck, and body. If you are bothered by skin laxity, non-surgical skin tightening in Louisville can temporarily halt this process and restore a firmer, smoother, more youthful appearance with no downtime.
How does it work?
Skin tightening facial rejuvenation is very similar to cellulite reduction treatment. The process is essentially the same. We heat the skin to stimulate the body's production of new collagen, which tightens the skin.
There are two key differences in each process. The first is the method of application. The second is the type of skin it's appropriate for.
In addition to laser treatment emitting electromagnetic waves and radio frequencies, we also use low-level lasers. These lasers allow us to target fat cells more precisely. For more general skin tightening, we focus on loose and wrinkled skin.
If you would like to learn more about skin rejuvenation at LightRx's medical spa in Louisville, please call (502) 425-8820 or schedule a free consultation online.
LASER LIPO
Laser lipo, or laser liposuction, is a non-invasive treatment that shrinks and melts fat cells under the skin. It is a safer alternative to an invasive traditional liposuction as it does not involve any incision. It is proven to eliminate fat and help you to achieve the body that you want.
You can use laser lipo to target the fat on your stomach, arms, thighs, love handles, or chin. Treatments can be completed within thirty minutes, and you can leave the clinic and get directly back to work with no downtime.
Laser liposuction is safe and effective, and with the equipment and technology used at LightRx, clients can undergo the fat reduction treatment with little to no discomfort.
Liposuction is the number #1 cosmetic surgical procedure in the United States. Laser lipolysis is a non-invasive alternative to traditional liposuction for reducing excess fat. We are pleased to offer laser lipolysis treatment at our Louisville location.
Laser Lipo is designed to reduce fat in targeted areas and to help contour the body for a slimmer appearance. Typical clients before treatment have rounded abdominal areas, and larger love handles due to fat. After treatment, clients can expect a reduction in fat buildup in these areas and have a slimmer body frame and appearance. You can see some results of our previous clients for yourself in our laser lipo before & after gallery.
Laser lipo produces phenomenal results with less work, discomfort, and cost.
Laser liposuction in Louisville utilizes laser energy to induce neocollagenesis or the formation of new collagen. Numerous laser systems have been studied at length. They are effective and far safer than invasive surgery.
How does it work?
Laser liposuction in Louisville uses low-level lasers to target the fat cells beneath the skin. The skin is heated by the lasers and melted.
While traditional liposuction removes fat cells from the body via a surgical incision, our safer, non-surgical laser liposuction in Louisville helps your own body create the results.
The laser energy heats the fat cells to speed up natural collagen production. This non-invasive technique is a faster, safer alternative to traditional liposuction.
This melted fat is transformed into free fatty acids and glycerides. The new compounds are then transported to your muscles. Once in the muscles, they are worked out of the body via exercise.
When compared to traditional liposuction, laser lipo in Louisville is much safer because the process is non-invasive. Laser lipo in Louisville is surgery-free and requires no incisions. This means that you avoid the typical dangers and side effects of surgery. There is also no downtime with laser lipo. You can immediately return to your typical activities following your treatment, unlike traditional liposuction.
If you want to lose a bit of excess fat, then laser lipo in Louisville could be the solution for you. Schedule your free consultation and see what makes LIGHTRX the best medical spa in Louisville for yourself.
HydraFacial in Louisville
Got 30 minutes? With the best HydraFacial Louisville has to offer, LightRx can give you the best skin you've ever had in just three simple steps. First, we remove dead skin cells with gentle exfoliation to uncover a new layer of glowing skin. Next, painless suction is used to remove debris from pores while hydrating serums are infused into the skin. In the final step, antioxidants and peptides saturate the skin for maximum glow.
In less time than it takes to have coffee with a friend, you can be on your way to glowing, beautiful skin. All it takes is one quick visit to our medical spa. Other skin resurfacing treatments like laser treatments might require multiple visits or lengthy downtime. But with HydraFacial Louisville residents are going about their day as soon as the treatment is over. The entire treatment lasts just 30 minutes.
HydraFacial is proven safe for all skin types and skin tones, even those with sensitive skin. If you have concerns about fine lines and wrinkles, enlarged pores, dark spots, oil and congestion, elasticity and firmness, skin tone and vibrancy, or uneven skin texture, this treatment might be right for you. HydraFacial can transform your skin texture and leave you with a radiant skin tone, clearer, smaller pores, and healthier skin.
HydraFacial uses gentle exfoliation to remove dead skin cells from the surface layer of skin, revealing a bright, healthy glow. By removing debris from your pores, your skincare products will be able to penetrate more deeply into the skin and have a greater effect. The entire treatment stimulates collagen production for tighter, younger looking skin.
The exfoliation is extremely gentle, and the treatment serums can be customized to your specific skin concerns, so HydraFacial is safe for even the most sensitive skin types. Even if you use prescription creams like tretinoin, you can still get a HydraFacial. Talk to your provider about a treatment plan that is right for you. It may be advisable to suspend use for a few days before and after the treatment.
The HydraFacial is one of the most innovative treatments on today's market. It provides almost immediate results and you can get back to your day with a new glow as soon it's done! The best part? You'll have radiant skin that glows from within, all while enjoying our luxurious spa amenities such laser therapy or injections for an even greater improvement on your life and skin health.
LASER HAIR REMOVAL
Laser hair removal at our medspa in Louisville is a great idea if you're tired of shaving or waxing unwanted hair. For many, excessive body hair is an issue, and laser hair removal in Louisville provides more effective treatment and permanent solution.
How effective this treatment works depends on the contrast between your skin type and hair. The more contrast between your skin and hair, the better the chance you'll achieve optimum results.
If you and your consultant feel laser hair removal in Louisville is a good choice for you, you have some pre-treatment prepping to do, including:
You should avoid the sun. When you go out, apply a broad-spectrum SPF30 sunscreen before and after your treatments to ensure the healing process progresses properly.
Stop applying sunless skin lotions that darken your skin. You may require bleaching cream if your skin is dark or you have a recent tan.
Avoid other hair removal methods. You should avoid disturbing the hair follicle by shaving or waxing for at least four weeks before your treatment.
The day before your laser hair removal in Louisville, shave the areas being treated. Shaving immediately prior to your treatment removes any hair above the skin that can cause skin damage from burnt hairs while leaving the hair shaft intact beneath the skin's surface.
How does it work?
The lasers are used to pinpoint the hair follicles in the skin, which cause hair growth. The follicles are destroyed by the lasers without damaging the rest of the skin. Laser hair removal does not just disintegrate the hair outside the skin or cause the existing hair to fall out. Instead,  it destroys the hair at the root and renders the hair follicle inactive.
Hair has three phases of growth but is only affected by laser light when it is in the anagen or active growth phase. That is because hair follicles in the active growth phase have the most melanin, and it is the melanin that attracts the energy from the laser.
During treatment, laser energy is directed toward the area being treated. It deeply penetrates the skin, and the energy from the laser is transformed into heat until the follicle reaches the critical temperature that destroys it and prevents further hair growth.
While the follicle is impaired, the surrounding skin is unaffected and is often improved. Because of the nature of the treatment, laser hair removal leaves the skin feeling smooth. There are no nicks, stubble, razor bumps, or ingrown hairs after the treatment.
Sun damage, acne scarring, and your skin type influence how well this treatment will work for you.
Once the follicles are gone, the unwanted hair can't regrow. Full results typically take six sessions administered over six months. However, most clients report partial results following the first session.
If you would like to learn more about at LightRx's medical spa in Louisville, please call (502) 425-8820 or schedule a free consultation online.
These consultations are the best way to communicate your aesthetic goals and discover the best way to make them a reality. See for yourself why LightRx is the best medical spa in Louisville.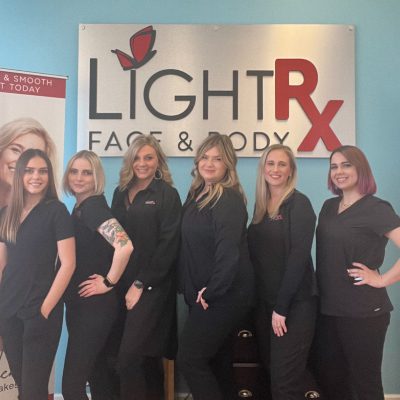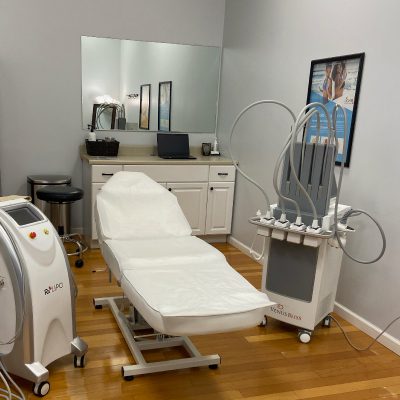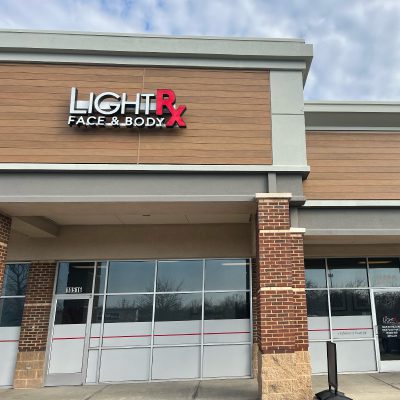 Also Serving: St Matthews, Shively, Middletown, Jeffersontown, Knopp, Clarksville, Sellersburg, Mt Washington
* Individual results vary. Best results promoted by a healthy lifestyle. Images do not constitute a promise or representation of any particular outcome.
**By submitting an application, I provide my signature authorizing contact from LightRx at the telephone number provided to discuss our services. Calls may be made using automated dialing technology and SMS, I am not required to sign this document as a condition to purchase any goods or services. I understand that I can revoke this consent at any time.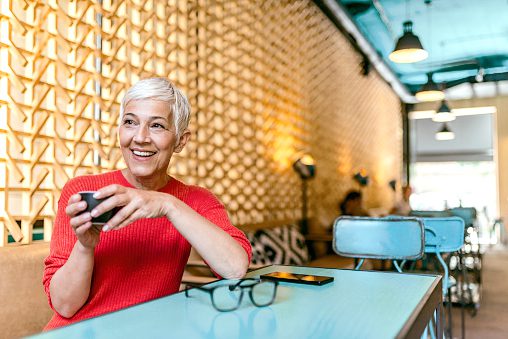 CONTACT US AT
877-721-4547
for your free consultation or fill out the form above and let our body contouring experts design a Treat2Complete custom plan, just for you.
CONTACT US