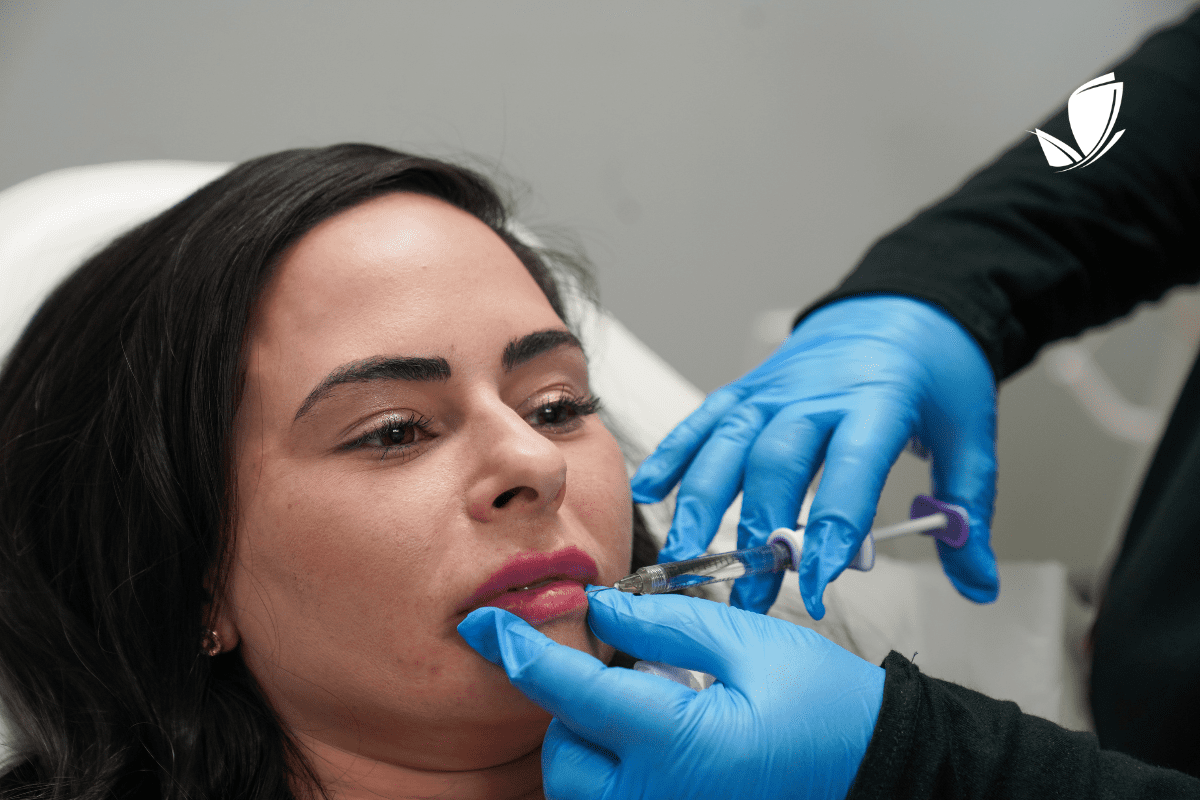 2023 Beauty Trends We're Looking Forward To
A new year means it's time to set new goals so you can be on the road to becoming your best self! Whether you're starting a new workout regime or picking up a new hobby, focus your new year's resolutions on the areas you want to improve—like your beauty and skincare routines! These five beauty trends are at the top of our list for 2023:
Injectables
No one enjoys pesky facial lines! Whether you're looking to smooth your forehead, chin or frown lines, or crow's feet, look no further—injectables could be the solution to younger-looking skin. Injectables are great for stimulating collagen by giving the skin the ability to repair and replenish for an improved bounce, elasticity, glow, hydration and more. Now more than ever, our industry has seen an increase in safe injectable knowledge and technology. People who have more trust in the process, can experience results they're looking for, and feel confident in their skin! Meet with an injection expert at one of our locations for a unique experience that can enhance your skin.
Skin Minimalism
Are you looking for an extra glow or more hydrated skin while saving cost? Skin minimalism is ideal for anyone who wants to save time and money by narrowing down skincare products to the core basic ingredients. Using too many products in your regimen could cause skin over-saturating, which may have the opposite effect on your desired beauty goals! What started as a trend from TikTok for quicker, more efficient and potentially more affordable regimens is now a beauty trend leading to balance within your skin. The right products will cleanse, moisturize and protect your skin on a daily basis.
Skin Tightening
Spending lots of time in the sun will cause wrinkles and fine lines to develop as a result of sun damage, causing your skin to lose collagen and elastin. Lessen the effects of aging and improve your skin's laxity with skin tightening! We all want our skin to have that natural and younger-looking feel. With the help of skin tightening, you can gain more confidence to meet your beauty goals. Skin tightening procedures are a low-risk alternative to surgery, with no long downtime for recovery. That means you can save more money and have more time to enjoy the activities you love. Our Sofwave and Venus Viva technology is a perfect option to help you enjoy smoother, tighter skin.
Laser Hair Removal
Any unwanted hair on your face, legs—you name it—should be a crime! The good news: laser hair removal can get rid of hairs at the root. This procedure breaks down the hair outside the skin to cause the existing hair to fall out while destroying hair follicles. Laser hair removal sessions can permanently remove hair, unlike traditional hair removal methods like shaving, plucking and waxing, which only have a temporary fix. Leave those annoying hairs in 2022 and glow in the new year! Better yet, we offer affordable and effective laser removal treatment to create peace of mind when it comes to your face and body hair.
Body Contouring
If you are looking for a toned and fit body, then body contouring should be on your list. This procedure reduces fat or loose skin with a contouring process to target those stubborn areas in the abdomen, thighs or love handle areas that will not disappear easily on their own. Body contouring can help define your shape for that stunning dress hanging in your closet, your favorite pair of jeans, or even just your natural curves! For the best body contouring results, we recommend drinking plenty of water, maintaining a healthy diet and participating in 30 minutes of cardio activity like walking, jogging, cycling, aerobics and more. We offer body contouring with our Venus Bliss Non-Invasive Lipolysis system, providing a painless and comfortable procedure to be confident in your appearance.
Resetting your beauty regimen is a great way to feel refreshed and renewed as you approach a new year. The latest beauty trends dominating the industry could be the next step in your journey to feeling confident and beautiful in your skin. Book a free consultation and get started on your 2023 beauty transformation today!
Let us help you with your 2023 beautify goals. Contact us today!