HydraFacial in Grand Blanc, MI
50% OFF TREATMENTS- Call now 810-344-6094
or submit the form below to schedule your free consultation:
BOOK TODAY AND RECEIVE AN ADDITIONAL $250 OFF!
HydraFacial in Grand Blanc Flint
One of the hottest treatments in the medical spa world right now is HydraFacial. This revolutionary facial uses patented technology to cleanse, exfoliate, and hydrate your skin all at once. And the best part? There are no side effects! That means no irritation, redness, or downtime – just gorgeous, radiant skin. If you're curious about how this amazing treatment works, read on for everything you need to know about HydraFacials.
The HydraFacial in Grand Blanc Flint is a great way to achieve healthy, glowing skin. This non-invasive treatment uses a unique serum to cleanse, exfoliate, and hydrate the skin. The HydraFacial can be customized to address specific concerns such as fine lines, wrinkles, uneven skin tone, and more. Paired with our skin tightening treatment, it's a great way to support your skin health and get younger looking skin.
The result is immediate and visible – your skin will look and feel refreshed and radiant. Best of all, the HydraFacial can be performed in just one session, so you can get back to your busy lifestyle right away. If you're looking for a quick and easy way to achieve beautiful skin, the HydraFacial at LightRx in Grand Blanc Flint is the perfect solution.
If you keep reading you will find the fundamental information about the HydraFacial process. This includes what it is, how it works, and the specific HydraFacial technology we use at LightRx. Along with this basic information we have provided the answers to the most frequently asked questions from our customers.
We encourage you to schedule a personal consultation with one of our experienced technicians to help answer any questions not answered on this page. This is the first crucial step to the HydraFacial process. After learning about your medical history and body cosmetic goals we will find which treatments are right for you. This will be catered to your needs, including how many facial treatments you'll need to achieve the results you want.
We also recommend you check out our other medical spa treatments available. These could include laser-treatments such as laser lipo, laser hair removal, or laser fat removal. Or non-laser treatments such as body contouring, skin tightening, or skin rejuvenation. These can also be discussed during your personal consultation.
What is HydraFacial in Grand Blanc Flint?
At LightRx in Grand Blanc Flint, we offer HydraFacial as an advanced skin rejuvenation treatment. It is a non-invasive, multifaceted treatment that cleanses, evenly exfoliates, and extracts impurities from the skin while infusing it with antioxidants, hyaluronic acid, and peptides. The HydraFacial has all the benefits of light therapy and dermal fillers with as little risk as a deep cleansing treatment.
How Does the HydraFacial Process Work?
Our HydraFacial technology utilizes a unique Vortex-Fusion delivery system to thoroughly cleanse and nourish the skin. First, the device uses a gentle vacuum suction to deeply cleanse and exfoliate the skin. Next, any congestion or impurities are extracted using special serums tailored to your specific skincare needs. Finally, the Vortex-Fusion system infuses antioxidants, peptides, and hyaluronic acid to leave your skin looking plump and glowing.
Our HydraFacial Technology
At LightRx in Grand Blanc Flint, we use the latest HydraFacial technology to provide our clients with the best possible results. Our device offers customizable serums and interchangeable treatment tips, allowing us to tailor each HydraFacial session to individual skincare needs and concerns.
What Is the Vortex-Fusion Delivery System?
The Vortex-Fusion delivery system is a unique aspect of HydraFacial technology that sets it apart from other skin rejuvenation treatments. The Vortex-Fusion system uses a combination of vacuum suction and special serums to cleanse, extract, and nourish the skin for maximum results.
Frequently Asked Questions
Below are the answers to the most frequently asked questions that our team hears from both our new and existing clients about HydraFacial. Please contact LightRx in Grand Blanc Flint if you have any questions or concerns not addressed on this page.
Is HydraFacial Safe for Everyone?
HydraFacial is safe for all skin types and there is no age restriction. However, it is always important to consult with a skincare professional before undergoing any treatment to ensure it is right for you.
What Are the Results I Can Expect to See from HydraFacial?
HydraFacial can improve the appearance of fine lines and wrinkles, hyperpigmentation, congested or enlarged pores, oily or acne-prone skin, and overall complexion.
How Soon Can I Expect to See Results from HydraFacial?
Many people see noticeable improvements in their skin after just one treatment. However, for optimal results, a series of treatments is recommended.
How Long Do HydraFacial Results Last?
The results of a HydraFacial can last up to a week or more with proper skin care and sunscreen usage. A regular skincare regimen and maintenance treatments can help extend the effects even further.
Are There Any Side Effects from HydraFacial?
HydraFacial is a non-invasive, gentle treatment with little to no discomfort or downtime. Some mild redness may occur immediately following the treatment but should subside quickly.
How Much Does HydraFacial Cost?
The cost of a HydraFacial treatment can vary depending on the specific needs of the individual. At LightRx in Grand Blanc Flint, we offer customizable packages and specials to make HydraFacial affordable and accessible for all.
Schedule Your HydraFacial Today!
At LightRx in Grand Blanc Flint we can help you experience the transformative power of this advanced skincare treatment. Contact us today to schedule your free consultation. Your skin will thank you!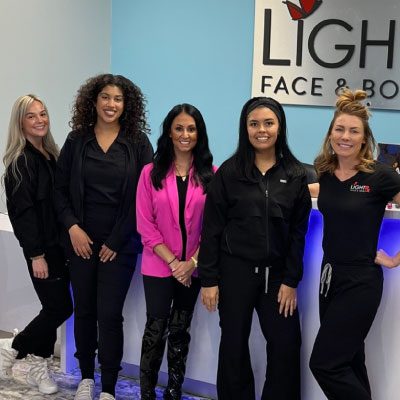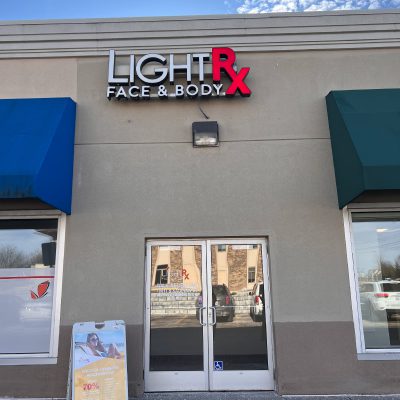 Also Serving: Flint, Grand Blanc, Goodrich, Fenton, Burton, Davison, Lapeer, Holly
* Individual results vary. Best results promoted by a healthy lifestyle. Images do not constitute a promise or representation of any particular outcome.
**By submitting an application, I provide my signature authorizing contact from LightRx at the telephone number provided to discuss our services. Calls may be made using automated dialing technology and SMS, I am not required to sign this document as a condition to purchase any goods or services. I understand that I can revoke this consent at any time.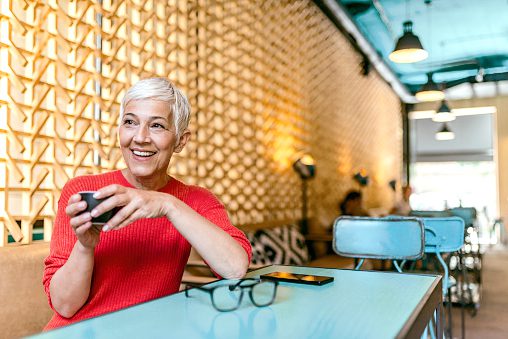 CONTACT US AT
877-721-4547
for your free consultation or fill out the form above and let our body contouring experts design a Treat2Complete custom plan, just for you.
CONTACT US