Laser Hair Removal in Greenville, SC
Laser Hair Removal in Greenville
Are you considering laser hair removal in Greenville? If so, you're not alone. Many of our new and existing clients come to LightRx in Greenville each year for laser hair removal to remove unwanted hair. This medical spa treatment is one of the most effective ways to reduce or eliminate the need for traditional hair removal methods like waxing and shaving. 
While laser hair removal is safe and effective for most people, it's important to understand what to expect before you book your appointment. This webpage will cover the general principle of what you need to know about laser hair removal in Greenville, including the process, the benefits and the possible side effects. 
We'll also provide a few tips on how to prepare for your treatment as well as answer the questions we most commonly hear from both our new clients and our existing clients. This page is more general in nature. Please contact our team of skin health experts if you have any questions or concerns about the laser hair removal process. Our staff can give the specifics as to what laser hair removal would look like for you including what areas to target. They can also schedule you for your free personal consultation. This is the first step in the process of laser hair removal in Greenville. 
During your consultation, your technician will ask you about your medical history as it relates to laser hair removal. They will also ask you about your skin care and body health goals, as well as your weight loss goals. Your technician will use this information to create a personal treatment plan for you.
Your personal treatment plan will include how many treatments you will need as well as the frequency at which you will need to receive treatment to achieve your goals. Total cost of your treatment plan will also be discussed during your personal consultation. 
What Is Laser Hair Removal?
Laser hair removal is a cosmetic treatment that uses pulsed laser light to target and destroy the hair follicles, removing unwanted hair at the source. The treatment is effective on all skin types and can be used to remove hair from any area of the body, including the face, arms, legs, chest, back, and bikini line. 
How Does Laser Hair Removal in Greenville Work?
Laser hair removal works by targeting the pigment (melanin) in the hair follicle with high-intensity pulsed light. The light is absorbed by the melanin and converted into heat which destroys the follicle and prevents future hair growth.
Most people need between four and six treatments to achieve long-term hair reduction, although some may require more. Treatment intervals are typically spaced six to eight weeks apart to allow the hair follicles to enter the growth phase of their cycle. 
How You Can Prepare for Laser Hair Removal
There are a few things you can do to prepare for your laser hair removal treatment. First, it's important that you avoid sun exposure for four weeks before your appointment. This will help to prevent complications and ensure that the treatment is effective. 
You should also avoid waxing, plucking, or electrolysis for six weeks prior to treatment. These methods can remove the hair shaft from the follicle, making it more difficult for the laser to target the follicle. Instead, shave the treatment area with a razor two to three days before your appointment.
What You Can Expect From Your First Laser Hair Removal Treatment
During your first treatment, you will be asked to wear protective glasses or goggles to protect your eyes from the laser light. Your technician will then clean the treatment area and apply a cooling gel. 
The laser device will be passed over the skin, delivering pulses of light as it goes. You may feel a slight snapping sensation as the light hits the hair follicles.
The length of the treatment will depend on the size of the treatment area. Most treatments take between 30 minutes and one hour. 
After the treatment, the cooling gel will be removed and you will be able to return to your normal activities. It's important to avoid sun exposure for at least 24 hours after the treatment. 
You may experience some redness and swelling in the treatment area, which is normal. These side effects should resolve within a few hours. You may also notice that some of the hair in the treatment area falls out within a week or two of the treatment. This is also normal and is a sign that the treatment is working. 
Frequently Asked Questions About Laser Hair Removal
Below you will find the answers to the questions we most commonly hear from our new and existing clients about laser hair removal in Greenville. Please contact our staff at LightRx in Greenville if you have any questions or concerns not addressed by the information below. 
What Is the Total Cost of Laser Hair Removal in Greenville? 
The cost of laser hair removal in Greenville will vary depending on the size and number of treatments required. Most people need between four and six treatments to achieve long-term hair reduction. 
The total cost of your personal treatment plan will also vary based on any adjacent medical spa treatments that you decide to add on. These adjacent treatments could include other laser treatments like laser lipo. They could also include non-laser treatments like body contouring, skin tightening to firm up loose skin, or HydraFacial. 
<How Is Laser Hair Removal Different From Electrolysis? 
Laser hair removal and electrolysis are both methods of permanent hair removal. However, there are some key differences between the two treatments. 
Laser hair removal targets the pigment in the hair follicle using a high-intensity pulsed light. The melanin in your skin absorbs this light and converts it into heat. It's the converted heat that destroys the follicle and prevents future hair growth. 
Electrolysis, on the other hand, uses a small needle to deliver an electric current to the hair follicle. This destroys the follicle and prevents future hair growth. Because it targets each follicle individually, electrolysis is a slower process than laser hair removal. It is also more expensive. 
How Long Do Laser Hair Removal Results Last? 
Laser hair removal results are usually long-lasting, but they may not be permanent. Most people experience a significant reduction in hair growth after four to six treatments. For some people, the results may last for years before touch-ups are needed.
Schedule Your Free Personal Consultation Today
If you're interested in learning more about laser hair removal in Greenville, contact us today to schedule your free personal consultation.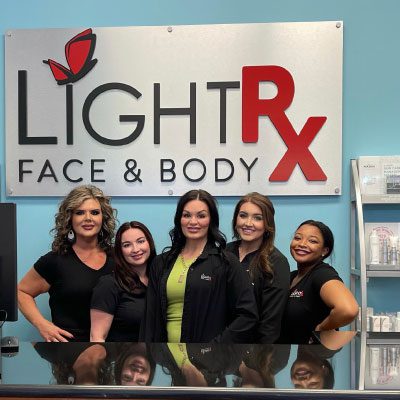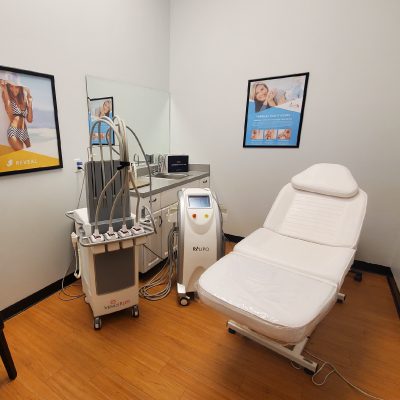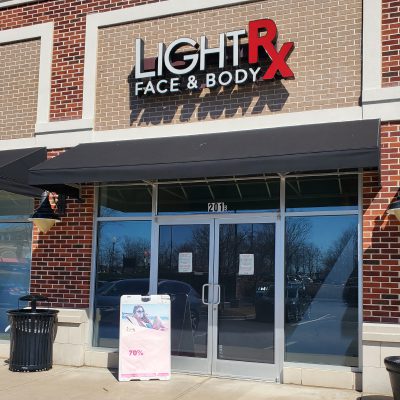 Also Serving: Mauldin, Greer, Piedmont, Simpsonville, Easley, Spartanburg, Woodruff, Anderson
* Individual results vary. Best results promoted by a healthy lifestyle. Images do not constitute a promise or representation of any particular outcome.
**By submitting an application, I provide my signature authorizing contact from LightRx at the telephone number provided to discuss our services. Calls may be made using automated dialing technology and SMS, I am not required to sign this document as a condition to purchase any goods or services. I understand that I can revoke this consent at any time.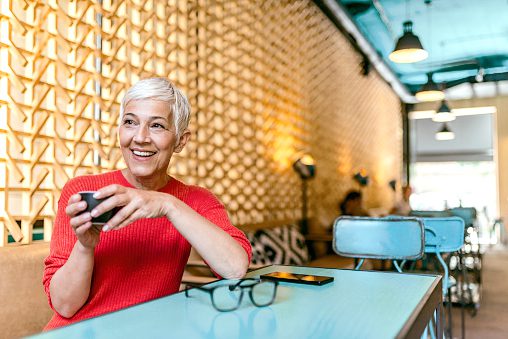 CONTACT US AT
877-721-4547
for your free consultation or fill out the form above and let our body contouring experts design a Treat2Complete custom plan, just for you.
CONTACT US