50% OFF TREATMENTS- Call now 630-424-3635
or submit the form below to schedule your free consultation:
BOOK TODAY AND RECEIVE AN ADDITIONAL $250 OFF!
WELCOME TO LIGHTRX NAPERVILLE
LightRx in Naperville is the ideal place to address any aesthetic body issues that you may have. We offer a wide range of medspa treatments from laser lipo to cellulite removal and any other body contouring you may need. Wrinkles, excess fat, loose skin, are all blemishes that can be remedied by one of our affordable treatments.
All of our treatments are FDA cleared and are performed with state-of-the-art technology designed with comfort and effectiveness in mind. We are located at 1763 Freedom Dr Suite 125, Naperville, IL 60563 right off I-88.
SERVICES
We offer the following treatments:
Body Contouring
If you are looking for a full body makeover then look no further. LightRx offers many different treatments with the goal of getting you to look how you have always imagined. Body contouring combines several treatments, depending on the desired results, in order to get your body to its ideal state.
We can help you to slip back into your favorite pair of jeans or look even better in that bikini you like so much. The best part is that all of our treatments are surgery free and come with no downtime.
This means that there is a significantly reduced chance of any serious side effects occurring when compared with more invasive surgical treatments such as traditional liposuction. Also, you will be able to leave our clinic and return to the regular routine of your life, be it a job or any activity.
Cellulite Reduction
Cellulite is the bumps of fat on the skin that often manifests on the thighs and the abdominal area. This skin condition is completely harmless to a person's overall health or general wellbeing, but many find the condition to be aesthetically unappealing, as a result LightRx Naperville offers a way to reduce the presence of cellulite on the skin.
We do this by targeting the skin's natural healing process. In order to do this, we use a combination of radio frequencies and electromagnetic waves to heat the skin to the perfect window temperature in order to trigger said healing process without damaging the skin. This healing process creates new skin fibers called collagen.
Collagen fibers are responsible for the skin's tightness and the new collagen will help to reduce the presence of cellulite. This treatment can be applied to any part of the body where cellulite is.
Skin Tightening
Our skin tightening treatment is very similar to our cellulite reduction treatment, but with more focus on wrinkled and loose skin. In order to heat the skin, we use, in addition to the aforementioned electromagnetic waves and radio frequencies, low level lasers. This heat treatment creates more collagen which can treat both wrinkled skin and loose skin.
If you want to get rid of any face wrinkling or maybe have loose skin from rapid weight loss, then we can help you with your skin. The complete effects of the process will take about six months to fully manifest, but with proper skin care and UV protection the results can last upwards of three years.
Laser Lipo
Laser Lipo is a great solution for people that are looking to lose some stubborn fat in problem areas such as the abdomen, thighs, or buttocks. If you have tried diet and exercise and have not gotten the desired results laser lipo may be what you need and moreover you can get laser lipo in Naperville.
Laser lipo is a great innovation in medical weight loss and is quite simple. We use low level lasers to target the fat and melt it away. The melted fat is turned into glycerides and free fatty acids. This transformed fat is taken to the muscles where they will be burnt off in exercise following the treatment.
The muscles naturally take fat from the body to create energy, but when the fat is melted through the laser lipo treatment. The entire treatment process takes six to eight sessions depending on the targeted area and desired results. Furthermore, the treatment is completely surgery free and comes with no downtimes.
In contrast to traditional liposuction, laser lipo is much safer and the risk of side effects is much lower. Because traditional liposuction involves incisions and inserting a vacuum to suck out the fat there is a chance for significant side effects. With laser lipo after your session, which typically lasts between 45 to 90 minutes, you will be able to leave our clinic and go back to your daily life without having to deal with a recovery period or worrying about serious side effects.
HydraFacial
If you want a new and refreshing look for your skin then you've got to try the all new LightRx HydraFacial in Naperville. This is a non-invasive skin resurfacing treatment that will enhance your skin through a gentle exfoliation, getting rid of your dead skin cells so you can show off your radiant skin that was buried underneath your skin layers. This is a proven safe treatment for all skin types and skin tones, including sensitive skin, and rough skin texture. However, it is  not advised to receive HydraFacial if you have an active rash or if you are prone to active rashes.
HydraFacial comes with many benefits for your skin. It will improve the appearance of any enlarged pores that are present on your skin. HydraFacial is also the best way to restore your collagen production and produce a tighter and a younger look for your skin through laser treatment. It's an effortless process that is known for giving your skin that radiant skin tone that you need to look and feel your best.
Why should you give HydraFacial a try? Well for starters, the entire treatment only takes 30 minutes and there is absolutely zero downtime before, during, or after. If this sounds interesting to you then visit our medical spa.
The secret behind the HydraFacial treatment is the patent technology. This skin improvement tech will provide a gentle exfoliation for your skin by removing debris from your pores. Your esthetician will then infuse your skin with a hydrating serum that will improve your skin appearance to fix those fine lines and wrinkles. The result? Glowing, radiant, healthy, and younger looking skin. Say goodbye to unwanted wrinkles and lines. So long as you keep up your HydraFacial treatments – your skin will never look better.
The time is now for your skin to experience that radiant skin glow that you can only find from HydraFacial in Naperville. This is a non-invasive treatment that is proven to produce the best skin in your life. Celebrities like Paris Hilton and Beyonce have been raving about the Hydrafacial treatment. So if you want to add a celebrity level glow and life to your skin, then HydraFacial is for you.
Laser Hair Removal
Laser hair removal is a more permanent solution to hair removal than traditional methods such as shaving, waxing, or creams. Laser hair removal in Naperville is available to you at LightRx. We use low level lasers to target the follicles in the skin to kill them. This does not just cause the hair to fall out at the root but prevents the follicle from producing more hair.
The lasers are calibrated such that only the follicles are killed without harming the skin itself. It only takes four to six sessions to see 95% hair loss, but most clients see partial results after the very first session. Due to the nature of the treatment, there are no bumps, nicks, scratches, or burns following the treatment. If you want smooth, hairless skin then laser hair removal may be right for you.
Schedule a Free Consultation
If you would like to learn more about LightRx in Naperville please call (630) 424-3635 or schedule a free consultation. These consultations take as little as 30 minutes and are private one on one consultations with the clinic director. These consultations are designed to help you determine what treatment plan is best for you and to help you achieve a body you can be proud of.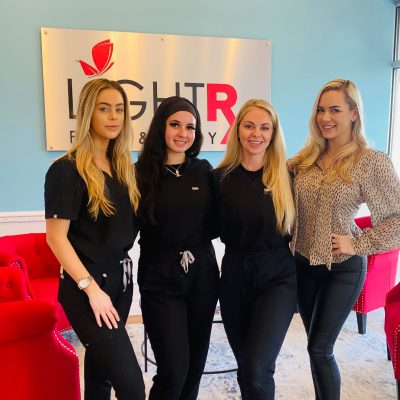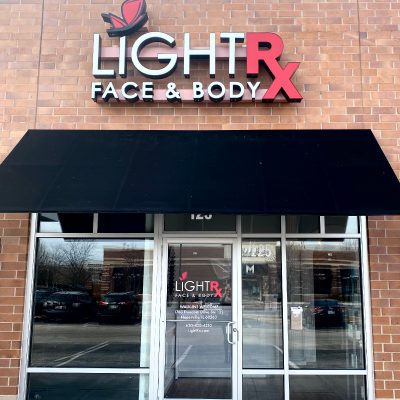 Also Serving: Chicago, Aurora, Plainfield, Bolingbrook, Romeoville, Wheaton, Batavia, Oswego, Montgomery, Lemont, Lockport
* Individual results vary. Best results promoted by a healthy lifestyle. Images do not constitute a promise or representation of any particular outcome.
**By submitting an application, I provide my signature authorizing contact from LightRx at the telephone number provided to discuss our services. Calls may be made using automated dialing technology and SMS, I am not required to sign this document as a condition to purchase any goods or services. I understand that I can revoke this consent at any time.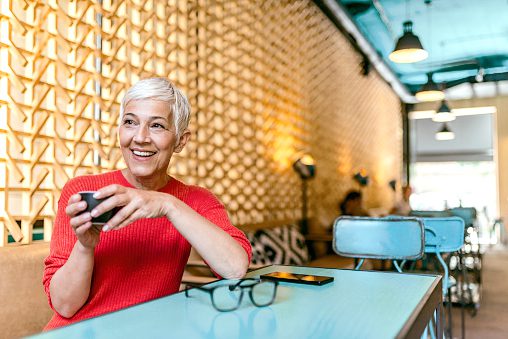 CONTACT US AT
877-721-4547
for your free consultation or fill out the form above and let our body contouring experts design a Treat2Complete custom plan, just for you.
CONTACT US