40% OFF TREATMENTS- Call now 210-764-5919
or submit the form below to schedule your free consultation:
BOOK TODAY AND RECEIVE AN ADDITIONAL $250 OFF!
WELCOME TO LIGHTRX SAN ANTONIO
            At LightRx we have everything you need to reach the goals you have for how you look. We are a premier medspa that focuses on results and comfort. LightRx San Antonio can help you correct any aesthetically displeasing body issue by melting unwanted fat in problem areas, tightening wrinkled skin, reducing cellulite, and removing unwanted hair.
All the treatments we perform are safe and clinically approved. LightRx has the best in medical technology and provides the results you want. Our office is located in Stone Oak at 27 N Loop 1604 W #209 and is the best med spa in San Antonio.
SERVICES
We offer the following treatments:
Body Contouring
            LightRx in San Antonio provides any body contouring that you may need. We use only the best in medical technology which allows us to provide our patients with the results they need as well as keep them comfortable throughout the process. Our treatments will reduce fat, remove cellulite, or tighten wrinkled skin.
None of our treatments are surgical or invasive. This means you will have no downtime after leaving our clinic and can get back to your life. Body contouring can eliminate that stubborn fat in the abdomen, thighs, and "love handles" that normal dieting and exercise cannot. Body contouring can redefine your silhouette and help you fit into your favorite dress again. It can lift and shape your buttocks and help you feel good at the beach again.
If you simply want to like how you when you see yourself in the mirror, body contouring will firm up the curve of your hips or flatten your stomach. If you want to learn more about our body contouring treatments, you can here.
Cellulite Reduction
            Cellulite happens to many people, but if you want your thighs or stomach to be smooth LightRx in San Antonio has the treatment you need. Cellulite is caused by a combination of fatty deposits and broken-down collagen fibers in the skin. LightRx has safe, non-invasive devices that use electromagnetic pulses, low level lasers, and radio frequencies that all work together to melt fat and reduce cellulite. The machines start a natural process in your body that heals the skin.
This process starts when the skin hits a certain temperature and when it does it forms something called collagen. This collagen is what contracts and tightens, which is what eliminates the cellulite. The procedure is painless and noninvasive. Patients leave the clinic after their final session with limited cellulite if any at all. 
Skin Tightening
            LightRx in San Antonio can tighten loose skin on your face, arms, or abdomen. Skin tightening works similarly to how cellulite reduction works. We use electromagnetic pulses and radio frequencies to trigger the body's natural healing process.
These electromagnets and radio waves heat your skin and cause a thermal reaction triggering the skin's natural healing process. This healing process is what forms the collagen, which is responsible for tightening the skin. Skin tightening can be used for both loose skin and wrinkled skin.
Laser Lipo
Laser lipo is what LightRx specializes in. Laser lipo is perfect for eliminating fat in problem areas that you just cannot seem to touch with regular dieting and exercise. In comparison to traditional liposuction, which is expensive, invasive, and often comes with the risk of dangerous side effects, laser lipo is cheaper, noninvasive, and safe. LightRx offers laser lipo in San Antonio to anyone who needs help with achieving their body image goals.
Laser lipo is a nonsurgical medical procedure that uses low level lasers to melt fat. Where traditional liposuction involves incisions and vacuuming out the fat, which can put someone out of work for days and comes with the risk of infection, laser lipo is quick, easy, and often painless. Laser lipo is scientifically proven to reduce fat and can help you to look the way you want to look.
Laser lipo is nonsurgical, which means patients experience zero downtime. As soon as you leave our clinic you can go back to your normal daily routine. Laser lipo will not leave you with scars or infections, unlike traditional liposuction, because laser lipo is not a surgical procedure. Laser lipo is safe, effective, and efficient.
Treatment pads are applied to the skin which shoot low level lasers through the skin and into the fat. These lasers destroy the fat cells, and the fat moves to muscle tissue where it is burned off through exercising. Because laser lipo focuses on a specific part of the body when you do our prescribed exercise routine the body does not have to look for fat to burn, it is already in place, so the targeted part of the body is the part that loses mass. Laser lipo is safe and effective and although it takes multiple sessions for full results, many patients see results after the first session.
HydraFacial
Are you looking to upgrade your skin to its highest potential? With the LightRx HydraFacial in San Antonio, you will get a skin resurfacing treatment that leaves you with a radiant skin tone. This groundbreaking treatment uses a wand that creates gentle exfoliation to remove dead skin cells, then cleanse, extract, and hydrate your skin in just 30 minutes. You also have the ability to multiply the effectiveness of this treatment by adding additional boosters to address your personal skin concerns. 
With this treatment, you will experience the refreshing feeling of a facial wand siphoning out the impurities from your pores and infusing the hydrating serum into your skin. The entire treatment will be complete in only half an hour with instantaneous results. You'll see improvement in  wrinkles and fine lines and enlarged pores, plus fewer blackheads and less hyperpigmentation
HydraFacials aren't limited to clients with dry skin. This treatment is proven safe for all skin types and skin tones. If you struggle with having sensitive skin of any type, you can rest assured that you won't be creating any unnecessary damage to your skin. HydraFacial is good for anyone at any time as long as you are not experiencing any active rashes. 
The benefits of getting a HydraFacial in San Antonio are tremendous. The treatment is relatively short, only lasting about 30 minutes on average but you will be able to see results immediately. And you won't have to worry about any downtime or recovery like with certain laser treatments. 
After getting this treatment, fresh, new layers of skin will be revealed, leaving you with a clean, glowing complexion like you've never seen before. With the customizable serums and boosters, you'll have the best skin of your life. You can get a HydraFacial as often as once every four weeks to maintain your results and have an even bigger boost of collagen production. We recommend getting the treatment at least three to four times a year for the best results. 
Since it's great for all skin types and has immediate results, HydraFacial is one of the most popular treatments you can get at a medical spa. If you want a more refined skin texture and unmatched radiance, give HydraFacial a try. With HydraFacial as part of your regular skin care regimen, you can't go wrong. 
You can easily pair HydraFacial with other skin care treatments like dermaplaning. Take advantage of our free consultations to find out how HydraFacial fits in your skin care treatment plan. 
Laser Hair Removal
            Constant shaving or frequently getting you hair waxed off is not an experience that anyone enjoys, which is why LightRx offers laser hair removal in San Antonio. Laser hair removal is more permanent than waxing and removes hair more effectively. Laser hair removal can be applied to any part of the body including legs, upper lip, armpit, chest, back, or bikini area.
Although it takes multiple sessions to achieve the desired results many patients see some results after a single session. Laser hair removal destroys the hair follicle which prevents the hair from growing back in the future. Hair grows in three stages and can only be treated properly with lasers during its active growth stage.
During this phase, the melanin in the follicle will attract the laser light, causing it to overheat and be damaged. Although this seems dangerous, it is completely safe. The skin is not harmed, only the follicle. Due to the nature of the procedure, there are no nicks, razor bumps, stubble, or ingrown hairs after treatment.
Your hair will be unable to grow back because the follicle is what makes the hair grow, so after laser hair removal you will no longer have to shave or wax. If you would like to know more about laser hair removal you can find information here.
If you would like to learn more about LightRx in San Antonio please call (317) 253-0750 or schedule a free consultation online. These consultations take as little as 30 minutes and are private one on one consultations with the clinic director. These consultations are designed to help you determine what treatment plan is best for you and to help you achieve a body you can be proud of.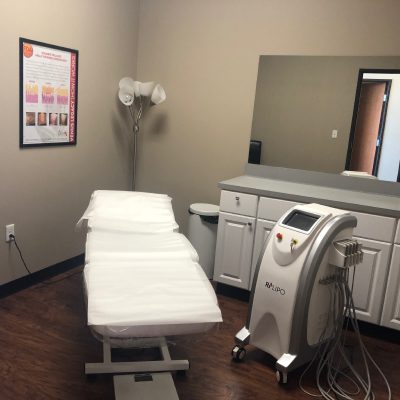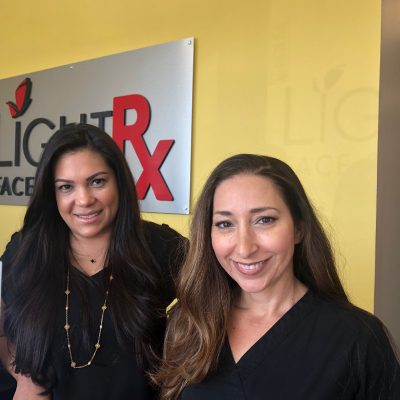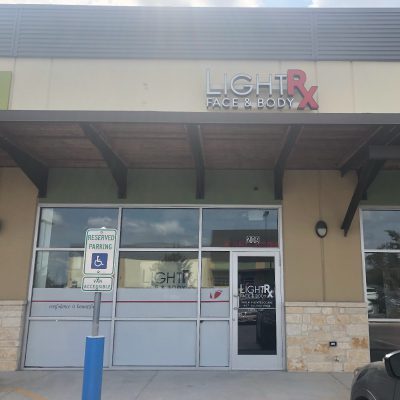 Also Serving: Shavano Park, Castle Hills, Timberwood Park, Live Oak, Fair Oaks Ranch, Selma, Convere, Schertz
* Individual results vary. Best results promoted by a healthy lifestyle. Images do not constitute a promise or representation of any particular outcome.
**By submitting an application, I provide my signature authorizing contact from LightRx at the telephone number provided to discuss our services. Calls may be made using automated dialing technology and SMS, I am not required to sign this document as a condition to purchase any goods or services. I understand that I can revoke this consent at any time.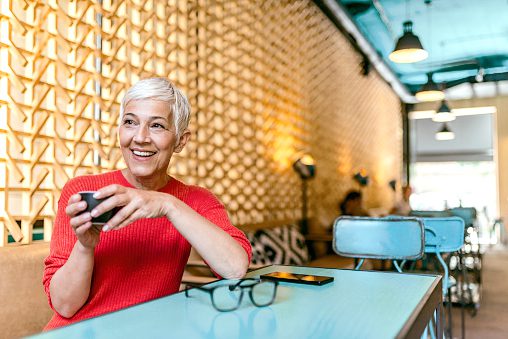 CONTACT US AT
877-721-4547
for your free consultation or fill out the form above and let our body contouring experts design a Treat2Complete custom plan, just for you.
CONTACT US