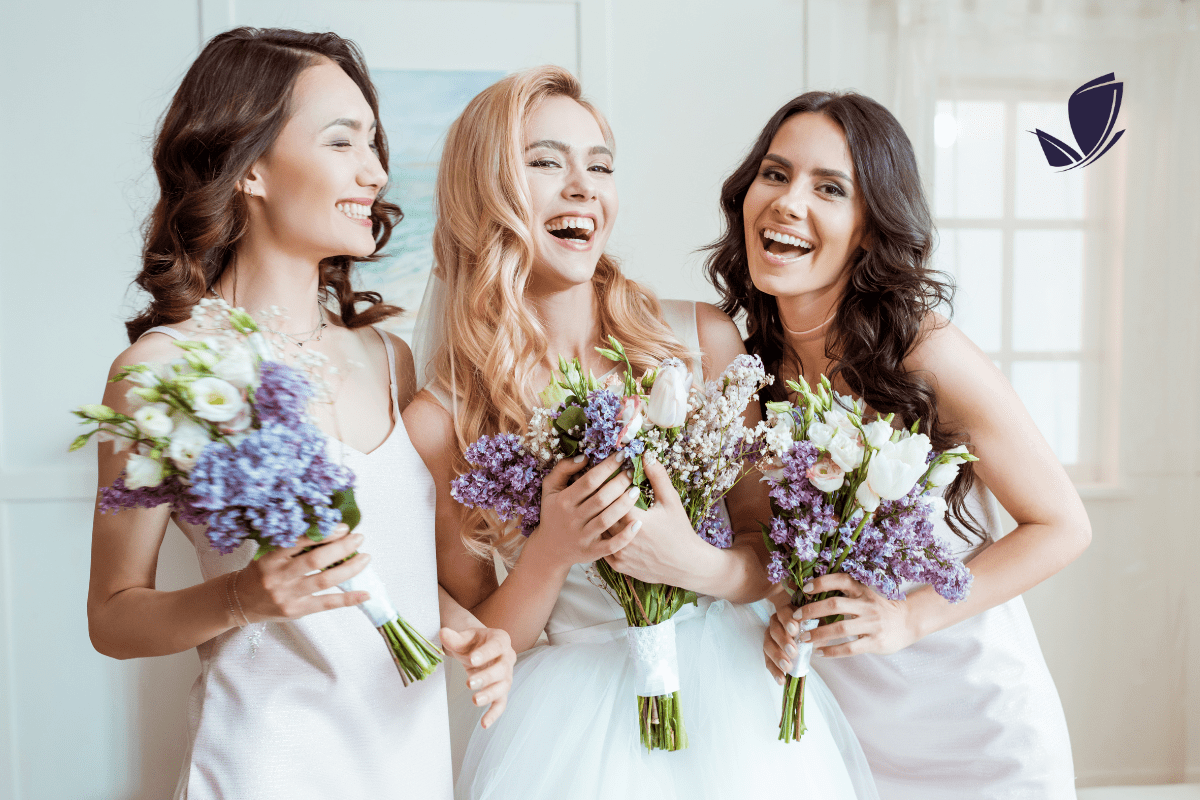 Top 10 Wedding Trends in 2023
As the wedding scene has changed in the past two years, it's no wonder weddings are more over the top than ever! Brides and grooms are prioritizing the celebration of their love story through creativity and personalization to make their special day even more special. If you're in search of inspiration for your big day or a loved one, check out these top 10 wedding trends in 2023.
1. Bright Colors
Couples are integrating bold, vibrant colors in all wedding aspects, from floral selections to bridesmaid gowns. Try incorporating fun pops of color to your celebration, including table settings, floral prints, venue decor, furniture and dessert arrangements. Bring on the color!
2. Wedding Maximalism
This year, weddings are all about the luxury, over-the-top feel. Dramatic ceilings with floral features, statement aisles and custom dance floors are ways to add grand and unique elements to your wedding. Couples are also elevating their big day with show-stopping cakes, intimate destination weddings and decadent dining experiences.
3. Private Last Dance
We've all heard of the first dance, but the last dance is a new trend happening in the wedding scene. A private last dance is done at the end of the night when guests clear out of the room. This addition will create a special, private moment with you and your partner that will be remembered long after the big day.
4. Mix-and-Match Bridesmaids' Dresses
The evolution of bridesmaid dresses has come a long way, as brides are changing tradition by choosing different gown styles for all of their bridesmaids. You can be playful with mix-and-match gowns from color schemes, textures or silhouettes. Incorporating different designs and styles is a great way to allow your bridal party more choices to feel comfortable, confident, as well as choose a dress that fits within their price range.
5. Film Photography
The film photography style is back! Wedding photographers this year are utilizing film-style photography to take more natural, blurred and nostalgic-looking photos. This style is a cool opportunity to capture more candid moments and let the personalities of the bride, groom and wedding party shine.
6. Dramatic Accessories
Brides are getting more creative and bold as non-traditional wedding accessories are on the rise. Pearl detailing and embroidery are popular designs used on gloves, veils, collars, shoes and more. Personalize your wedding look with dramatic accessories to add a unique touch to your big day.
7. Architectural Florals and Minimalist Bouquets
Flowers are used as statements, covering or surrounding key architectural pieces giving them a pop of color or drawing more attention. Some unique and show-stopping places to incorporate flowers are the aisles, altar, ceilings and feature walls. Brides are also gravitating towards smaller bouquets, but not shying away from bright color choices.
8. Midday Ceremonies
Ceremonies that take place earlier in the day create a moment of relaxation for the wedding party and guests between festivities. This time allows guests to explore the area, catch up with old friends and recharge for a fun-filled reception. Weather can be an advantage of a midday ceremony with warmer temperatures and more natural lighting.
9. Custom Wedding Rings
We are continuing to see the personalized, bold and unique trend in wedding rings. For example, stones, lab-grown diamonds and moissanite rings are rising in popularity. More artistic, unique rings with multiple stones and even colored stones are becoming the timeless heirlooms that brides are dreaming to rock on their ring finger.
10. Extravagant Honeymoons
As travel restrictions lift, newlyweds are opting for longer honeymoons and visiting multiple destinations. Couples are incorporating a honeymoon fund as a gift option to their registries for guests to help with travel. If you're trying to find the perfect honeymoon destination, create a travel bucket list with your partner of places to visit and things you want to do on the trip. Newlyweds are booking high-end, luxury travel experiences, making their honeymoon a once-in-a-lifetime experience that is truly special and unforgettable.
Thanks to these personalized wedding trends, couples can invite their guests into their love story in authentic, grand and creative ways. The idea of weddings has changed over time, but the possibilities are endless for couples to blaze their own trail and have the perfect wedding day. Which 2023 wedding trend will you be incorporating into your big day?
Let us help you with your 2023 wedding goals. Contact us today!